The events of the 2011 South By South West (SXSW) conference and festival aren't set to kick off until March 11, 2011. However, the time has come for attendees to have their say in how it's programmed. There are many compelling choices, but one we'd personally like to recommend is presented by Fanscape CEO, Larry Weintraub.  This proposed SXSW Interactive session, entitled How To Make Money Podcasting, is sure to be one of the best panels of next year's gathering.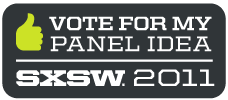 What you'll learn from this session:
Strategy behind creating a podcast – can't just wing it anymore
Ways to monetize your podcasting efforts
How to brand yourself and your podcast
Content creation – taking an idea and making it a reality
Building an audience beyond your friends and family
We hope you'll join us in trying to make this session a reality by giving us the thumbs up when placing your vote.
Check out the full session details HERE. Let us know what you think!